Are you a "No-Reply"-er?
Hi there!
I wanted to ask you for a BIG HUGE favor!!!
Would you go check something for me?
I want you to see if you are a "no-reply" commentor...
It's really easy to do...
Kristine wrote this post a while back and it's helped bloggers and commentors everywhere.
Really!
Do you know what a "no-reply" commentor is?
It means that when you comment on my blog and I want to email you back and continue the convo -
I can't :(
And I really want to!
So let's be friends...
Enable your email!
Tell others!
Can you just imagine the possiblilities?
All those new bloggy relationships you'll have?
I know!
Now, go!
I'll talk to you in a bit:)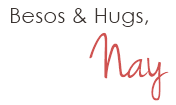 Thanks to Megan for reminding me about Kristine's post!
Mwah!