♥ Day - A Mug for Her/A Mug for Me! #vdaymugswap
Happy Valentine's Day Loveys!

Before I start this little post, I wanted to tell you how much you are appreciated in this space.
Today is the Day of Love...
But most importantly, make it the day you love

You
Every single smidgen of you
Embrace your

you

-ness!
♥
So on with the show!
In January,
Valentine's Day Mug Swap
I jumped on the chance to join in and signed up right away!
A week or so later, I got an email from Caroline saying that I had been matched up with
Megan from Everyday Nonsense
This is what I knew:
Her name -> Megan and she lived on the East Coast and blogged at Everyday Nonsense and her twitter handle -> @curliemegs Candy? "I've never met a candy I didn't like. Except licorice. Blech." And she liked Anthropology, South Moon Under
I later emailed her and found out she liked mint green and pink.
After reading (you know, I mean stalking, right?) Megan's bloggy, I got down to business.
This is what I came up with:)
I ran to Anthropology and took forever to figure out which mug to get.
I was between three different mugs and decided on the one that I would've wanted:)
Then off to get lollipops, love socks, a mini-journal & some pens.
Put it all in a box and shipped it out just in time!
Phew!
Then a couple of days later, I got my package!!!
Look at the wonderfulness that I got!!!
Lindor chocolate truffles, a LOVE mug, a yummy smelling candle, a dish towel that says LOVE YOU, and nail polishes.
She outdid herself, loveys!
Megan,
Thank you so much for all my goodies!
I've been using my mug ever since I got it. It is now one of my favorite mugs.
You Rock!
xoxo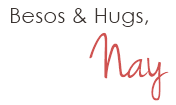 Want to see what everyone else in the swap got?
Head on over to see Alissa or Caroline
Also, if you put #vdaymugswap on Twitter or Instagram, you can see all the goodness there, too!