♥My Forever Love♥
I was supposed to write this post yesterday, but decided since it was a three-day weekend over here that I was going to take a three-day weekend from the bloggy.
If I don't live life to the fullest then I won't have anything to write about, right?
Loveys, yesterday I celebrated my eight-year anniversary with the hubs.
If you follow me on instagram, you would've seen the pic we took together this weekend
and the flowers he gave me
Eight years ago yesterday, I married my best friend.
It was the best decision I ever made.
Love that man!
And I love that before we became "involved" we were friends. He's the boy who I would set up with my girlfriends. He's the one I spoke to at all hours of the night when no one else would listen. He's the one that still teases me and drives me up the wall like no one else.
He's all mine.
My heart is still full after all these years.
I texted this pic last week for the #dailylovenotes I've been doing for him all month:
This is definitely true for us.
I never in a million years thought he was the One.
He was always there and when we both stopped searching for someone else...
It was just perfect.
And still is.
Love you, babe.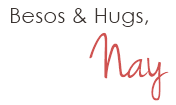 ps:
Head on over to
At Home with the Hinkleys
right now!
Natalie is having her "
Awesome February Sponsor Giveaway
"...
and I'm one of her sponsors.
You can enter here or at her bloggy!
a Rafflecopter giveaway