Sometimes
I wonder what it would really be like to sit down and have a real cup of coffee with you.
Like, sit down with a room full of my readers and pick their brains.
I think there would be a lot of "How do you..." questions from me to you...
but more than likely, we would probably just shoot the breeze.
I think that starting and keeping friendships with fellow bloggers and/or my readers is easier.
I think about the women I've met through blogging...
I text them...
Email with them...
"See" them all pretty much everyday.
It's an easy relationship because you don't have to really figure out when you can see each other.
Bloggers are always there.
I lose myself in this blogging world and forget that there is a real life out there.
Yes, I pay attention...of course, I do.
I'm a wife.
I'm a mom.
I'm an employee & co-worker.
I'm a best friend.
But, I'm also a blogger..
...and I need to learn that being a blogger doesn't mean that that is all I am.
I read other people's blogs and think,
"Wow...that's some good writing!"
And I know that I am that good of writer, too.
Even if I don't have the numbers, page views, high amount of comments...
I'm still good enough.
I doubt myself, though.
Am I good wife?
Am I an attentive mother?
Do I do enough in the house?
Will I continue being better than yesterday?
Will I ever just be happy with who I am already?!
But that's just
Because
I know that I am awesome and have flaws.
I know that those flaws make me who I am
And also, I find comfort in saying to myself:
"GOD doesn't make mistakes, remember?
You can do all things 'cause He's got your back!"
:)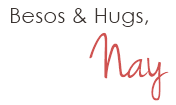 Have more coffee!
Alissa

will hook you up.
Go grab a cup with her and many other blogger-ettes!
I'm over at
The Trophy Wife in Training
today!
I did a Guest Post for her : )
xo