Why I Blog?
Write.
Write words.
Write sentences.
Don't censor yourself.
Just write.
Write...Write...Write...
Share.
Repeat.
I have to remind myself why I started blogging in the first place.
My passion is and has always been the written word. I want words to flow through me onto a blank page. I want those words - those thoughts - to inspire. I want them to inspire my readers. From that inspiration, I want my inbox to blow up from the comments I receive from every post.
But that doesn't happen.
Sometimes it happens, but my blog is just not read yet...
It will - it's in the process.
But...
I have had to take a hard look at myself and figure out why I blog at all.
True story:
I once had a blog called "Cover to Cover...and Everything in Between" and I had to stop blogging there. I had to stop blogging there. I didn't say I wanted to stop, but I was kind of forced to. People outside of the blogging world (because I've never - ever - had negativity in the blogworld about my writing) attacked me because of what I had written. They got me where it hurts - my soul. Writing is the other ingredient running through my veins. When I stopped writing at Cover 2 Cover, I was broken. I was hurt. I stopped blogging...or writing at all for that matter.
Until...
I met up with some blogger girlfriends...my people...people like you. People who understand that hurt I was feeling. Bloggers understand other bloggers. We just do. They understand what followers are...followers that stalk you in that nice way - because they like you, not want to creep you out:)
They held my hand. They listened.
And then they inspired me.
So I made the decision...
I made the right decision to start this space...
I put a lot of thought into what I wanted this space to be.
I wanted it to be somewhere I enjoyed coming to and felt safe in. It had to be somewhere that I could
Just
Write.
It didn't have to be perfect. It could be sporadic posting, even. I wasn't going to make this blog feel like a job. I also wanted to talk about anything I felt...anything.
My Faith.
My Family.
My Beliefs.
My Past. Present. Future.
Sometimes it would be silly...other times serious...but always me.
I feel like I'm slowly creating that space.
I like it here and I feel safe.
This is why I blog.
This is why I made the decision to blog again.
This is my world. This is the world of blogging.
It's where I belong.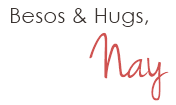 You read my blog posts through
Bloglovin'
You could even follow by GFC or having "coffee-n-ink" in your inbox!
Find out when I've posted by following me on
Facebook
Twitter
Instagram
Will you join me?