Just because...
Hello Sweet Lovey,
It's a new day. A day full of possibilities. A day that you can be good to yourself.
A day to start something new.
You have all this potential bursting out of you.
I know you don't always see it. I know you doubt yourself sometimes.
But I know, just like you do - deep down inside -, that you are worth so much more than you think.
You are wonderfully made. You are not a mistake. You make someone smile everyday.
Did you know that?
Did you know that you are thought of every free moment by someone?
You are their reason for living. It's pretty wonderful to think that, right lovey?
Start today.
Start thinking of yourself as others see you.
Beautiful.
Smart.
Fun.
Sweet.
Charming.
Loving.
Independent.
You are all of those things and so much more.
Just because you couldn't find anything that fit when you went shopping this weekend...
Just because you didn't get a chance to cover those greys or pluck those eyebrows...
Just because you weighed yourself this morning and it was slightly higher than you thought it would be...
Just because you are worried about what people may think of you...
It doesn't matter.
It really doesn't. All that matters is that you are here.
All that matters is what's inside.
Really. I know it sounds like a cliche - a pep talk - a "you can get through this day" talk...
But you know what? Sometimes, you need to hear it.
You are perfectly wonderful in the way you look, the way you think, the way you present yourself...
You are a glorious person!
Remember who you are.
Remember that you are good.
You are alive.
You are enough.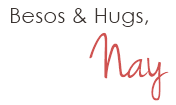 {This was a letter to me. Something I needed to read for myself. But I know. I know that one of you out there needed to hear it, too. Happy Monday, Lovey - you deserve to have the happiest day ever. Now go make it happen! xo}