"I was thinking of you"
I think by now you know me pretty well. You know that family, friends, connections...that is what makes me feel fulfilled. Making people in my life happy makes me feel good. When I have a chance to put together a "I was thinking of you" package, text, email, I feel like my day is pretty complete.
So, when Card Store approached me about using their service to send a greeting card to someone, I jumped at the chance.
I browsed through the amazing variety of greeting cards and put something together. It was really easy to use. The personality of the store is really cute too...see:
I went to their FAQs to see how it all worked...
A. Creating a card is as easy as counting to five! Literally. Just follow these simple steps and the card of your dreams will be out in the world in no time:
Choose your favorite card.
Write your personal message.
Add some adorable photos (if you want to, but really, who wouldn't).
Address the envelope.
Check out with our secure online system.
Easy, right? We would never lie to you.
And, nope...they didn't lie!
put some words to the inside, entered the mailing information, and VOILA!
A "I'm thinking of you" greeting card was sent.
I sent it to a bloggy girlfriend of mine that always sends me little "hi" notes in the mail. I always wanted to do the same for her and finally got to!
You can make photo cards, invitations...any kind a card, really.
It's pretty darn cool, lovey.
Go check them out! If you need someone to send a card to, I'll give you my mailing address.
You helped me make someone's day a little better and brighter...and that ROCKS!
Learn more about Card Store here...Happy Monday!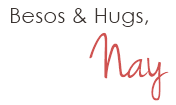 { This was a sponsored post - all opinions are my own, as always :) }