My Comfort...{a little food and story}
Today I've been inspired by one of our own loveys to join in on the
I've noticed that our lovely
Sarah
has been doing this challenge everyday and I'm loving getting to know her better like this! Go check out
her post
, too! Well today's blog challenge prompt asked...
...and that's what I'm gonna do!
I think I've mentioned this before...I'm half Peruvian, compliments of my Papa. And I have learned that the best part of being Peruvian is the food! Oh loveys! My mouth waters just thinking about it!
Before living in Perú in my 20s, I didn't know how wonderful food could be. While I was in Lima, I lived with my aunt and my two cousins. They taught me, above everything else I am most grateful for, that food is an experience. My younger cousin loved lomo saltado - a meat and potato kind of stir fry. It is now my absolute favorite Peruvian dish and my signature dish when going to a Peruvian restaurant!
Living with my aunt and cousins was at times major culture shock, other times totally eye-opening, but most of all, a growing experience.

In their home, I learned what it was to be a self-sufficient woman. I learned that some things were more important than others. As a woman, you must persevere and break through barriers that others put in front of you. There may be walls that will halt your pace, but all you need is a strong voice and character to break it down.

They showed me strength, humility, and love without barriers.
But, most importantly, I learned that you are born into the family you've got - there's no changing it. But what you do with that family and how you portray yourself to them (and everyone else, for that matter) is most important. Stand firm in what you believe and do what you must to be successful.

But back to the food!
Here you go! Go make it & enjoy the process of it all.
Can't wait to hear what you think!


Lomo Saltado
Ingredients
1 lb. of beef (tenderloin is best)

salt, pepper, and cumin

1 tsp. of paprika

1/2 tsp. of oregano

2 onions cut in thin strips

1 clove of garlic

1 ají (Peruvian chili pepper or pimiento) cut in very thin slices

2 tbsp. of vinegar

2 tomatoes cut in wedges

1 tbsp. of parsley

1 lb. of potatoes (or if you don't want to fry - *a lot* of french fries)

Vegetable oil (a necessary amount)
Preparation
Heat up 4 tablespoons of vegetable oil and fry in it the beef (tenderloin) in strips (about 2 1/2 cm., approx.). Season with salt, pepper, and cumin and incorporate the paprika and the oregano.
Add the onions, garlic, chili pepper (pimiento), and the vinegar.
Add the tomatoes and stir well.
Put the meat back and sprinkle with parsley.
Cut up potatoes in fry-form and fry in a lot of vegetable oil
(or you could always buy them, right?)
Serve meat and veggie mixture over the french fries and accompanied by white rice or rice/corn mixture.
Whatcha think?
Are you in?
Told you your mouth would water!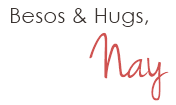 p.s.: Don't forget!
Use coupon code: LOVEYS by December 15th
and receive 15% off your purchase
at Sarah's etsy shop, WMUD!